Literature reviews and book talks from Kim, Young Adult Library at The Hampton Library in Bridgehampton.
Thursday, August 30, 2012
YA FIC FOR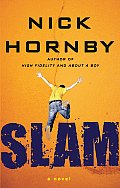 YA FIC HOR
15 year old Sam's life has been pretty on track for him lately. His teachers finally think he has college potential, his mom has dumped her
loser boyfriend, he's mastered some new, more difficult skateboarding tricks (with the help of his idol, Tony Hawke, whose poster talks back to Sam: ok so it's actually quotes from Tony Hawke's autobiography), and he's even started dating Alicia, a girl who he thought was way out of his league. Live is perfect until Alicia tells Sam that she's pregnant and going to keep the baby. SLAM!
"It took years for everything to come together like that, and it took two seconds to screw it all up. One mistake and my life would never be the same."