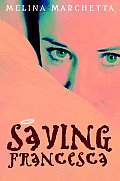 Francesca is working to save everyone but herself: Her mom Mia, is in a deep depression and doesn't leave the bedroom, her father can't seem to get a grip on the fact that the family is falling apart, her younger brother Luca, who needs help with homework and meals on the dinner table, oh yes, and all the girls at St. Sebastian's school, where up until this year has been a boys only school. But add one toilet and 30 girls and presto you have a co-ed school where the boys are intolerable, the teachers are unsympathetic, and girls who are ready for a revolution. Normally Francesca has the unwavering support of her mother, but not this time.
"And I want to tell her everything. About Thomas Mackee the slob and Tara Finke the fanatic and Justine Kalinsky the loser and Siobhan Sullivan the slut. And I want to tell her about William Trombal and how my heart beat fast when he looked at me, but more than anything, I want to say to her that I've forgotten my name and the sound of my voice and that she can't spend out whole lives being so vocal and then shut down this way. If I had to work out the person I speak to the most in a day, it's Mia, and that's what I'm missing"
Alone, scared and lost in a mounting sea of pressure, just who's going to be the one saving Francesca?